Gakpo to Gvardiol: How the January window looks for transfer targets
Cody Gakpo: PSV, striker
PSV's plan was to let the Netherlands international move on in the summer but after an extraordinary World Cup he has the chance to leave in January. Erik ten Hag is a big fan and Manchester United remain interested, contacting agents for the 23-year-old. Negotiations between the two clubs have yet to start, and it depends on how much United are willing to invest in the striker. PSV wanted 50 million euros last summer but now they are asking for more than 60 million euros.
If Gvardiol: RB Leipzig, Defender
Chelsea are pressing again to sign the 20-year-old but there is also interest from Manchester City and Real Madrid. The question is whether the Croatia centre-back, who can also play left-back, will make a move in January or next summer. Chelsea offered 80 million euros at the end of August, with the goal of Gvardiol staying on loan at Leipzig for another season. The asking price has risen to more than 90 million euros.
David Datro Fofana: Molde, forward
A deal is imminent for the 20-year-old to join Chelsea, which would pay the Norwegian club around €12m and give Fofana a five-year contract. Chelsea decide whether the Cote d'Ivoire international should stay with them or go on loan but the deal has been agreed between the clubs and the player.
Mykhailo Modric: Shakhtar Donetsk, winger
The Ukrainian is Arsenal's first target and wants to join the Premier League leaders, but the other important consideration is what happens between the clubs because Shakhtar wants more than €65m to €70m and Arsenal wants to pay less. Contacts are in progress.
Cristiano Ronaldo: Free Agent, Striker
The 37-year-old has been training since the World Cup to be in the best possible shape and is waiting for an opportunity in Europe after leaving Manchester United. He has an offer on the table from Saudi club Al-Nasr worth €200m per season until June 2025 with commercial deals included.
Youssouf Moukoko: Borussia Dortmund striker
Dortmund are negotiating with the 18-year-old in the hope of extending his contract beyond the summer, but have yet to make an offer that will satisfy Moukoko. The Germany international has a great relationship with his manager, Edin Terzic, and would be happy to stay, but Dortmund need to act quickly as Premier League clubs will press for his signature if no deal is reached.
Joao Felix: Atletico Madrid striker
The Portugal international is open to leaving and Atlético are willing to listen to offers but he will start with an asking price of over €100m. There will be discussions with Felix's agent, Jorge Mendes, in the coming weeks to try to bring in proposals from English clubs or PSG. There is a good chance the 23-year-old will make a move but it is too early to tell where.
Soufiane Amrabat: Fiorentina, midfielder
Fiorentina will demand 40 million euros for the Moroccan international after his brilliance in the World Cup. Tottenham wanted Amrabat last January, and Antonio Conte remains a big fan, but Tottenham are happy with Rodrigo Bentancur, so no progress has been made there. Liverpool are tracking the 26-year-old but plenty of other clubs also like him and it wouldn't be an easy deal given the asking price.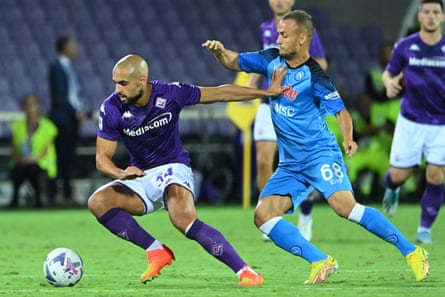 Hakim Ziyech: Chelsea, attacking midfielder
Chelsea are open to letting Ziyech go if they receive the right offer for a permanent transfer – the loan doesn't do them any good. Milan is not negotiating to sign him, contrary to rumors, but talks took place last summer.
Enzo Fernandez: Benfica, midfielder
The Argentine has had a great World Cup and there are a number of clubs interested, particularly in the Premier League and La Liga. Liverpool and Chelsea are among those tracking him, but this does not appear to be a direct transfer as Benfica would like to keep their two biggest players: Fernandes and striker Gonzalo Ramos. Fernandez has a release clause of €120m.
#Gakpo #Gvardiol #January #window #transfer #targets